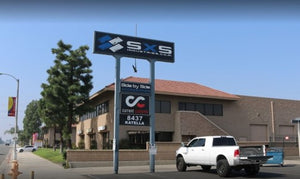 SXS Industries... All Things Off-Road
Committed, passionate, experienced and ALWAYS up for any challenge.
SXS Industries is a family and friend operated performance UTV product and installation center located in Southern California.
We like riding as much as you do and we're excited to share our passion, knowledge and resources with you.
SXS Precision Machining
Manufacturing division is a niche
precision machine shop with unique capabilities serving the Aerospace, Defense and Medical industries.
Born from a necessity to service the Off Road recreational industry it soon morphed into a full high precision Aerospace focused machine shop. What do you expect from a partnership team with close to 80 years combined Aerospace experience!
SXS Instagram